Are you at war with unsightly cords and cables? Manage and organize them once and for all!

You love spending time sitting around the living room watching TV or being productive at your computer. The problem begins when you take a look at under your desk or entertainment centre. Look at the mess of cords and cables crawling around the floor. What an eye sore!
Those cables are a necessary evil. Yes, your electronics need power but dam, why do companies have to make cords and cables so ugly? It's the 21st century, you'd think everything would be wireless by now…
What's worse, is that you try to keep your house neat and tidy but those cables seem to attract dust like magnets. Go on, take a look at your current power bar set up right now. You'll have an army of dust bunnies staring right back at you.
Well, of course, there's something you can do about it. The CableBox under desk cable manager by Blue Lounge makes those cables almost disappear! Not only will you gain more space, you'll enjoy an organized, cleaner house.
The cable box blocks dust and is easy to clean. You also won't have to worry about any four legged friends chewing on your cables. This cord hider is made from special flame retardant plastic and also has rubber feet so it stays in place. The cover is specially designed so it fits in snug so it can hold as many cables, adaptors and power bars you can shove in it.
Most importantly, you'll get that satisfied "zen feeling" of clean every time you watch tv or sit down at your desk!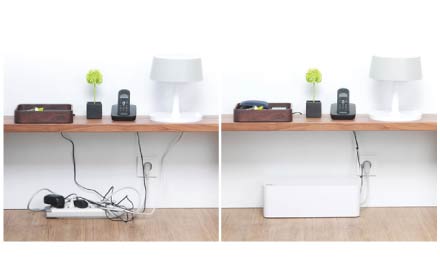 Keeps Your Cords and Cables Neat and Tidy
No need for velcro cable ties or clips, the CableBox will instantly manage your cables, adaptors and power bar. Perfect for under your desk or home theatre set up. Out of site, out of mind.

Easily Clean Those Dreaded Dust Bunnies!
The areas under your tables and desks are like breeding grounds for dust bunnies almost impossible to clean with cords and cables. The Cable box makes it so much easier to clean the dust and keep the area clean.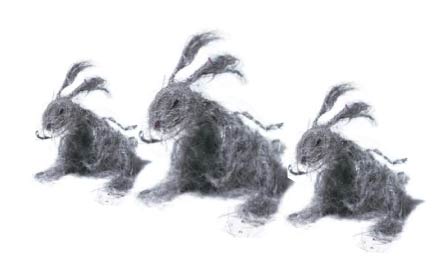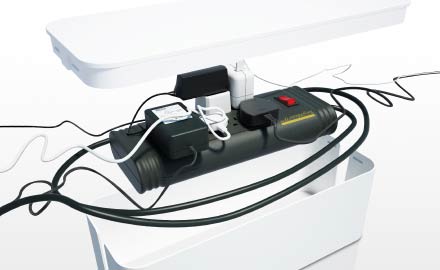 Create More Space
Not only are you hiding your cords, you are actually creating more space! You can use the cable box as an added shelf for extra gadgets like a router or use it as a platform for when you want to charge your phone.

Not just a plastic box
Well yes, it's a plastic box. But a special one at that! Made from flame retardant plastic, the Cablebox also has rubber feet so it will stay in place. The sides allow for air flow while the cover is specially designed to fit snug and securely. At 15.6 inches long, 6 inches wide and 5.3 inches tall, the CableBox can fit almost all power bars and adaptors.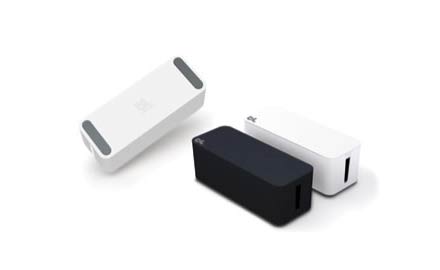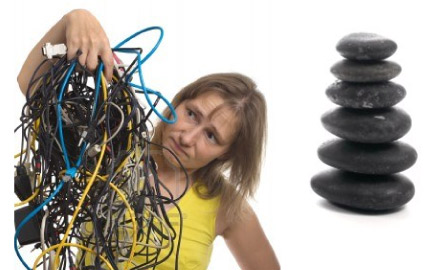 Go from Cable Hate to Cable Zen
You know that zen feeling you get after you clean your hose? Now you can get it every time you look near your TV or you're by your desk. A cleaner, more organized house is a happier you!

What else do I need to know before I get my own Cablebox?
How much is shipping?
Shipping your blueLounge Cable Management Solution CableBox is a flat $3 to anywhere in the USA or Canada by airmail via USPS or Canada Post
What if I don't like it?
No problem, you can get a 100% refund within 90 days of purchase! We'll make sure you're happy.
How can I pay securely?
We take Visa, Mastercard, Amex securely using Paypal. No Paypal account required! Just follow the prompts, it's easy we promise.
Full 1 Year Warranty!
You will also receive a full 1 year warranty at no additional charge when you buy your CableBox by Blue Lounge from Gogadgety.