Do you always have a problem with keeping your electronic cords neat and tidy?

It's right there, giving you an eyesore, collecting dust and making your super-clean home more cluttered than it's supposed to be. Sometimes you wonder, maybe, they have a mind of their own. Despite all of the cleaning you do daily, magical dust bunnies just love hanging out there. That mini-jungle of electric cables under your desk is just really annoying to look at.
Unfortunately, it's impossible not to have cords everywhere. Until the year 3000 comes around when we have wireless capabilities, we'll always be stuck with cables for almost everything we do.
Fear not, for the Cablebox Mini is here to rid of your cable woes.
The Cablebox Mini lets you hide all your cords and keep them in one place. You get to save a lot of space, and you won't have a difficult time cleaning, because it keeps dust from accumulating.
The Cablebox mini accommodates four electronic devices, perfect for your workspace, or anywhere else that you want to organize cords. It's made from flame retardant plastic, and is built with rubber feet, so it grips on any surface you put it on. The box has a cover, which keeps from accidentally unplugging devices. That way you can make sure your cords are safely in place, and out of the reach of your children and your pets.
Place it on or under your desk, and keep all of the connections you need in one place.Place it near your TV and keep your cords neatly. Need to charge your phone where you sleep? Place it on your bedside. Because of its neat and minimalist design, and a variety of colors, it can easily blend in with the rest of your decor. The Cablebox mini lets you organize in style.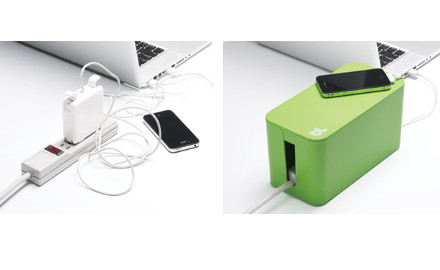 Manage your cables with ease
plug your cables and adaptors in, and store the excess wires inside the Cablebox Mini. Say goodbye to untidy cords under your desk!

Clean up your workspace
or any space, for that matter. The Cablebox mini comes with a power bar that can accommodate four electronic devices. If you hate cleaning spots where your devices are plugged in as much as we do, you will love how much easier it is to clean up your space once you've organized your cords in the Cablebox Mini.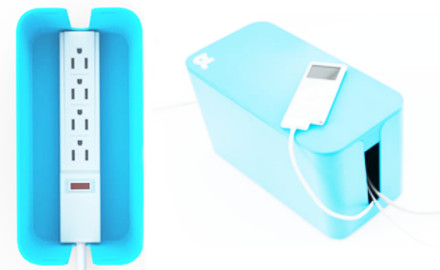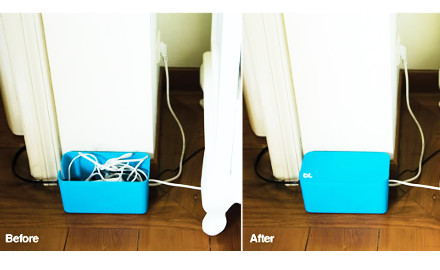 Keep your house and your office space safe
the Cablebox mini is made from flame retardant plastic, and is designed to allow airflow. It also has rubber feet, which grips on any flat surface and prevents it from slipping. The snug, secure cover keeps your electronic devices from being accidentally unplugged or touched children or your pets.

Organize in style
The Cablebox mini doesn't sacrifice form for function. It comes in a variety of colors, to match any interiors and decors.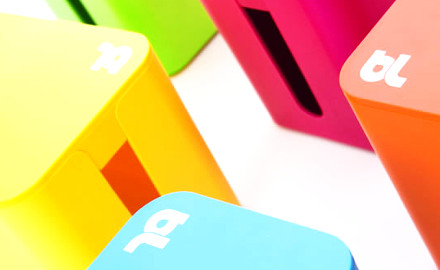 What else do I need to know before I get my own wide-angle iphone camera clip-on lens?
How much is shipping?
Shipping your cable management organizer is a flat $3 to anywhere in the USA or Canada by airmail via USPS or Canada Post.
What if I don't like it?
No problem, you can get a 100% refund within 90 days of purchase! We'll make sure you're happy.
How can I pay securely?
We take Visa, Mastercard, Amex securely using Paypal. No Paypal account required! Just follow the prompts, it's easy — we promise.
Full 1 Year Warranty!
You will also receive a full 1-year warranty at no additional charge when you buy your Cablebox mini from GoGadgety.